Online Schools
Degrees
Best Colleges
Student Reviews
Resources
2019 Best Online Colleges for Music Degrees
Online music degrees are offered at 62 online colleges at a variety of degree levels, but an associate or bachelor's degree in music is usually the first step toward forming an academic foundation for a music career. Our list of the best online music schools highlights the 6 top schools, based on tuition rates and alumni salaries provided by PayScale. General coursework for online music degrees includes classes such as music theory, music interpretation, ear training, and composition. Before enrolling in an online music program, students should make sure that their schools are accredited by a regional accrediting body.
2019 Best Online Colleges Offering Bachelor's in Music Degrees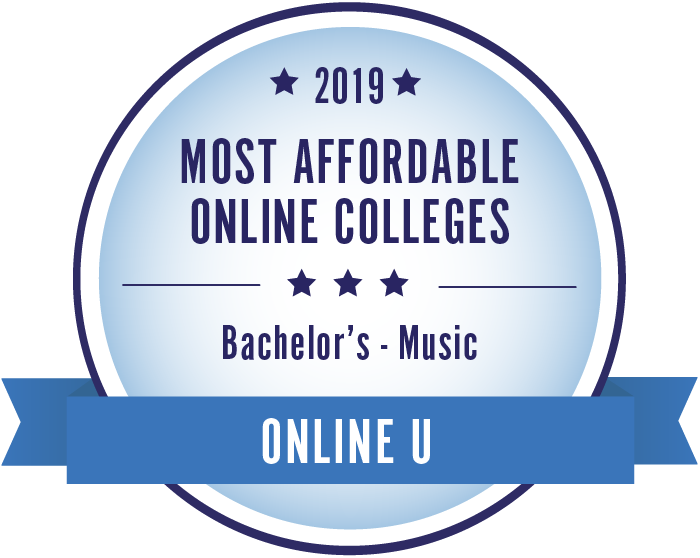 These are the best seven schools offering online bachelor's degrees in music. This year, Washington State University is the #1 pick, with an annual tuition of $11,329. University of the Cumberlands, at #7, has the lowest priced tuition, set at $6,368 for a Bachelor of Music in General Studies, making it a very affordable option for distance learners.
Alumni salaries were provided by PayScale. View our methodology for more details or learn more about SR Education Group .
All tuition numbers were manually collected and verified
Rank
School
Annual Tuition

Median Salary


#1

Washington State University

Annual Tuition




$11,329

Median Salary


$87,483

#2

University of Michigan-Flint

Annual Tuition




$21,786

Median Salary


$66,016

#4

University of Maine at Augusta

Annual Tuition




$8,730

Median Salary


$59,294

#5

Judson College

Annual Tuition




$15,840

Median Salary


$59,300

#6

Valley City State University

Annual Tuition




$8,070

Median Salary


$55,164

#7

University of the Cumberlands

Annual Tuition




$6,368

Median Salary


$51,030
Salary data provided by

. Updated 2018.
Comprehensive List of Accredited Online Schools – Music Degrees (
62)

Online Music Degree Overview & Career Information

A career in music is most often associated with being a performer. Musicians and vocalists perform in careers that range from short-term gigs on a freelance basis to performing as a member of a symphony orchestra under a seasonal contract. A successful career in musical performance requires not only talent and skill, but also a firm knowledge of music and music theory. Music performers must continually practice and train to hone their skills for jobs. While a career in music is typically associated with playing an instrument, singing or performing, the field of music offers a variety of occupations.
For example, music production degrees are interdisciplinary programs that introduce students to the technical and artistic skills for turning raw music into a quality recording. In school recording studios, students learn how to use digital and analog recording systems, as well as software like ProTools to edit and create music. Most programs also include coursework in liberal arts in addition to classes in music theory, where students learn how to compose their own scores, compositions, and songs. Marketing classes discuss postproduction issues like artist branding, sales, and public relations.
View Music Programs
View Music Programs
Online Associate Degrees in Music

Students seeking an introduction to the basic principles of music performance, business, or education may find a good fit in the online music associate degree.
Program Requirements
These two-year online degrees require about 60 credit hours. The online music associate degree may be an Associate of Arts program designed for university transfer, or it may be a more practice-oriented Associate of Fine Arts or Associate of Science. A high school diploma or GED is necessary to apply; some online programs may also require an audition.
Curriculum
The core of most online associate degrees in music focuses on music theory and musicianship. Students explore topics such as the fundamentals of music, performance techniques, music appreciation, and music history. Many online degrees require performance classes or participation in music ensembles. Other online music associate degrees combine an understanding of theory and performance with particular practical music areas. Online music business programs cover the structure of the music industry, marketing, and audio production, while education courses discuss curriculum development, student evaluation, and instructional methods.
The online music associate degree can be used to transfer to a four-year university or as way to enter a few different career areas. Depending on the student's skill level, they may play music in religious or civic organizations, performing arts companies, or as a part of a band. Others become self-enrichment teachers, providing music lessons or instruction in private homes or community educational programs. Associate graduates may find it difficult to become opera singers, classical performers, or school teachers, as these positions typically require a four-year degree.
View Associate Programs
View Associate Programs
Online Bachelor's Degrees in Music

Students in an online music bachelor's degree program study a particular aspect of music creation in depth. These online degrees may focus on performance, music production, music composition, or an interdisciplinary combination of topics.
Program Requirements
During the four-year, 120-credit-hour program, students also complete general education requirements. Applicants are usually required to have basic music performance skills or coursework, as well as a high school diploma.
Curriculum
The foundational courses in many online music programs focus on musicianship and music theory. Students specialize in a particular instrument or set of instruments, such as voice, percussion, or bass. Students are also required to spend time in performance ensembles, such as the university chorus or jazz orchestra. Online students can expect on-campus auditions or performances; alternately, they may have to record videos of their performances. Other online music bachelor's degrees focus in a different area within the production of music, such as music business, music and technology, music therapy, or music composition. While students complete courses in topics like music history and musicianship, the core of classes focus less on live performance.
Graduates of an online bachelor's program may become music composers, choir directors, conductors, musicians, or singers. Depending on the degree specialization, graduates may also be qualified for positions as music producers or software developers. Students who focus on education may become high school music teachers.
View Bachelor's Programs
View Bachelor's Programs
Online Master's in Music

Online master's degrees in music are available in a few different areas. In many online programs, students have the ability to shape the music master's degree around their own particular musical interests.
Program Requirements
To be eligible for admission to most online master's degree programs in music, applicants should have an accredited bachelor's degree in a music-related field. Many online programs require a GPA of 3.0 or higher. Music therapy master's programs require board certification. Along with the academic requirements, students are also required to submit letters of recommendation from colleagues or past teachers, as well a statement of intent. They take approximately two years to complete and may prepare graduates to teach music at the K-12 level.
Curriculum
Current music teachers pursuing a master's in music can deepen their understanding of music instructional techniques, musicology, and different types of music. Online music therapy master's degree programs are more specialized and less common than music education. In most cases, they are aimed at current board-certified music therapists who want to advance their skills. These online programs take two to three years to complete. In online music therapy programs, students deepen their understanding of neurology and learn to work with people who have a variety of disorders, such as Parkinson's disease, autism, or multiple sclerosis. Therapists learn how to use music to help their clients maintain functioning and improve memory and cognition.
View Master's Programs
View Master's Programs
Online Doctoral Degrees in Music

An online doctoral degree in music can help students continue their desire to receive an in-depth understanding of subjects such as music theory and musicology.
Program Requirements
Online doctoral music degrees can take five to seven years to complete, sometimes longer. Online doctoral degrees in music usually require students to have a master's degree in music, though students with bachelor's degrees in the field may be accepted. Students entering online music doctoral programs may be required to pass a music performance evaluation.
Curriculum
During the first few years of the online degree program, students take advanced courses in their specialization area. After that, they dedicate time to researching and developing a dissertation. Online doctoral classes are research-based, rather than performance based, and include the in-depth study of contemporary music and music education. Despite being online, some doctoral-level courses and examinations may require students to visit their campuses periodically, and a dissertation and a defense exercise are required to obtain a doctorate in music.
Students have several pathways when it comes to earning an online doctoral degree in music; choices include degrees in music education and musicology. Such online doctoral degree programs may prepare students for different jobs, depending on the focus of their studies. Examples of jobs available to doctoral degree holders include tenure-track professor and high-level administrative staff at a college or university. Outside of academia, having a doctorate in music may help holders of the degree find jobs leading performing arts or other non-profit arts organizations.
View Doctoral Programs
View Doctoral Programs
Online Certificates in Music

Online music certificates provide focused training in areas of performance, composition, and business to students at the undergraduate and graduate level. These online programs usually require 3 to 10 courses and one year of study. Applicants need a high school diploma or a bachelor's degree, depending on the certificate level. Some online programs require an audition, as well.
The online music certificate curriculum may vary, depending on the program's focus. Those who play an instrument, sing, or compose music may complete a program in musical performance. This online certificate covers topics such as music history, musicianship and performance techniques, and methods for composing music. Many online programs in this vein require that students participate in a musical ensemble in order to gain performance experience. Other online certificates cover a different aspect of music, such as the music industry or music technology. Online music business programs focus on the music industry and the steps from music creation to release. Online music technology certificates cover digital music production, audio technology, and multimedia. Berklee College of Music offers two flexible "build your own" certificates in music studies, where students may design their own three- or five-course program.
The employment benefits of an online music certificate will depend on the student's skill level, education, and performance experience. Undergraduates can use the online program as part of a bachelor's degree to prepare for graduate study in music at a conservatory. Those with a bachelor's degree can use the online graduate certificate to prepare for entry-level positions in music production and marketing. Others can use the online program to support performance in an orchestra or band or as a solo artist. Some may use the online program to prepare for work as private music instructors.
View Certificate Programs
View Certificate Programs
What Students Will Learn in an Online Music Studies Program
The curriculum of online music programs includes classes in music theory, music history, psychological and sociological aspects of music, conducting, theory and application of music education, music technology, and trends in music education. While the curriculum and organization of online music education degree programs vary, many programs require students to complete an internship or thesis project after they complete the coursework component of the degree.
Music programs delivered on campus are typically hands-on, as students practice and perform their instruments and receive feedback and guidance from classmates and instructors. Students in on-campus music technology and production programs may have opportunities to put their knowledge to work in real recording studios. Online programs try to re-create this experience by using streaming video, collaborative software, and other technologies. Some online programs may require students to enroll in individual lessons and join performance groups at local colleges and universities for credit. Consider your learning style and needs when researching online programs.
Although on-site training is not commonly required for online music schools, students interested in working professionally in the music industry, especially as performers, are advised to gain some professional experience before graduation. Working musicians must be prepared to find gigs, conduct themselves professionally, and network effectively, so students should begin practicing for their careers as soon as possible. Students hoping to work in other aspects of the music industry, like management or marketing, can also benefit from gaining professional experience before graduation to become more attractive to employers.
The following list provides a sample of some of the courses students will take in an online music studies program:
Legal Aspects of Music and Entertainment: Students specializing in music business or law will need a strong background in this area. Courses cover issues like copyright as they pertain specifically to the music industry.
Music Distribution: For both performers and managers, this course covers the various aspects of recording and publishing music. Students study forms of distribution, principles of pricing, and structures for royalties.
Music Management: This course is intended to provide students focusing on music business or management with a foundation of skills to prepare them for their careers. It covers topics like contract negotiations, artist publicity, and public relations.
Music Theory: This is an essential basic course that all music students can expect at the beginning of their education. Students learn the fundamentals of music, including melody, harmony, composition, and style.
Sight-Reading: Music students concentrating on performance will need to acquire the skill of sight-reading for their academic and professional careers. Sight-reading is the ability to sit down with a piece of music and begin playing even when you haven't seen the music before.
The Importance of an Accredited Online Music Degree
Accreditation is a stamp of approval which means an outside organization has independently verified that the school or program in question meets agreed upon academic standards. Musicians do not need licenses, so it is not technically required that they pursue an accredited degree. However, online students who hope to get a teacher's license or who intend to transfer their credits from one school to another or use their undergraduate degree to apply to a graduate degree program will need to ensure they are considering regionally or nationally accredited degree programs . Prospective online students will want to look for online programs accredited by organizations recognized by the US Department of Education . The National Association of Schools of Music is one group that grants accreditation to music programs that meet its standards.
Career Specializations for Music Studies Graduates
A career in music demands dedication and a willingness to be flexible regarding one's earning expectations, especially for those who are self-employed. Greater financial stability and rewards are offered in jobs such as music education, music production, and music management. In any case, whether it's a music career in performing, teaching, or working in multimedia technologies, music is a highly desirable choice for those who would like a career that highlights their musical talent and interest. A college education in music, whether online or campus-based, can help students hone and expand their skills and knowledge.
The world of music as a business has expanded dramatically to include the need for people in positions such as music producers, managers, promoters, and record label developers. In this ever-growing industry, a music background obtained through an online degree program serves to prepare and distinguish those seeking to enter such a highly competitive vocation. Because of new and expanding media technologies, the demand for those who are well prepared in music and related fields will have the best chance to land jobs in music production, management, and as multimedia music specialists. There are typically no formal education requirements to become a musician or singer, but one exception is classical music performance; a bachelor's degree in music may be required to work as a classical singer or musician. Graduates of online music technology and production programs may find work as composers for video games, commercials, and films.
Online students who plan to teach music at a public school will need to complete a bachelor's degree and a obtain a state teaching license. Some states require teachers to hold master's degrees in either their subject area or in education. Graduates of online music education programs may use their degrees to satisfy these requirements and further their careers as teachers in either elementary or secondary schools. Music teachers may choose to become certified through the Music Teachers National Association . The certification process takes up to one year and requires the submission of a professional profile. The MTNA professional certification program is designed to establish competency for the music teaching professional.
Graduates of online doctoral programs may continue to work in elementary and high schools but may also work in research and academia at the postsecondary level. Many of the graduates of online music education degree programs will go on to teach or become band directors at a school or college. Some will facilitate music programs for community centers, nursing homes, or children's after-school programs. Another area of music education is music therapy, in which music educators help individuals overcome mental and physical obstacles.
References

American Music Therapy Association. Accessed March 8, 2018. http://www.musictherapy.org .
Berklee Online. Berklee College of Music. Accessed March 8, 2018. http://www.berklee.edu .
Music Teachers National Association. Accessed March 8, 2018. http://www.mtna.org .
National Association of Schools of Music. Accessed March 8, 2018. http://nasm.arts-accredit.org .
Occupational Outlook Handbook. Bureau of Labor Statistics of the US Department of Labor. Accessed March 8, 2018. http://www.bls.gov/ooh/entertainment-and-sports/music-directors-and-composers.htm .
Occupational Outlook Handbook. Bureau of Labor Statistics of the US Department of Labor. Accessed March 8, 2018. http://www.bls.gov/ooh/entertainment-and-sports/musicians-and-singers.htm .


69%

of users found this page helpful

Was this page helpful?
Still have questions or feedback?
This website offers school details to prospective students as an informational resource. The appearance of a school listing on this website should not be interpreted as an endorsement by the school of this site.
This indicates that a school has an annual tuition of $15,000 or less as reported to the National Center for Education Statistics or based on the school's website.
This indicates that a school has a recommend rate of 60% or more and at least 5 reviews (based on data from our partner site GradReports.com ).
Skip to main content
---
WISHLIST x
View all
Your wishlist is empty
Close
Course Areas
Animal Biomechanical Medicine
Animal Studies
Animal Technology
Captive Animals
Companion Animals
Veterinary Nursing
Art & Design
Fashion
Writing & Editing
Business
Commerce
Event Management
Finance
Health & Safety
Management
Real Estate
Community & Children's Services
Children's Services
Community Services
Culinary Arts & Hospitality
Culinary Arts
Hospitality
Australian Residents
International Students
Beauty
Floristry
Hairdressing
Medical Cosmetics
Horticulture & Land Sciences
Conservation & Land Sciences
Horticulture
ICT & Information Management
Certifications
Cyber Security
Games Development
Library Services
Networking
Software Development
System Administration
Telecommunications
Music, Musical Theatre & Production
Music
Music Business
Production
Nursing & Health Programs
Quarrying & Extractive Industries
Biosecurity
Laboratory Sciences
Fitness
Sport & Recreation
Automotive & Driving Instruction
Building Design
Electrical
Furniture & Cabinet Making
Plumbing
Refrigeration
Timber
Training & Assessment
Work Education
Bachelor of Applied Music – Composition
Being able to compose music that is fit for purpose in the creative arts is critical to the success of any pursuit, and by undertaking our music composition degree, you can carve out a career in music for such wide ranging platforms as computer games, film, TV or animation. You can even develop your career in songwriting, become a band member, arranger or orchestrator.
This course is one of Australia's leading music composition degrees. A number of graduates who have recently studied this course are currently working in Los Angeles in world leading sound/composition studios and working as successful singer songwriters. Some of Box Hill Institute's graduates include:
Andrew Christie, composer for Hans Zimmer at his Remote Control Facility
Helen Croome (AKA Gosling), ARIA nominated singer/songwriter
The course has been designed to give you a competitive edge, by blending studies in the latest music technology, with traditional composition techniques such as music theory, counterpoint and orchestration.
During your studies, you'll collaborate on films with Swinburne and Deakin University filmmakers, allowing you exposure to a real world working environment while building up your industry show reel. Our focus on real projects has produced award winning students, including Ben Huang, winner of Tropscore 2014.
You will learn from some of Australia's leading practitioners including:
Shane O'Mara (producer/guitarist for Tim Rogers, The Audreys and Paul Kelly)
Nik Pringadi (Keyboards/Producer/Orchestrator for Xfactor, Human Nature, Tina Arena)
Nic Lam (Producer/Guitarist also known as DX Heaven, Red Bull Academy 2015)
George Papanicolaou (Film and Documentary Composer)
Core subjects include studies in music production, music business, jazz harmony, traditional theory, music history, keyboard studies, aural training, aesthetics and world music. You will have access to state of the art computer labs and studio facilities, as well as the opportunity to collaborate with other music students in other streams.
Upon completion of this course, you will be able to compose and arrange music for films, corporate videos, commercials, computer games, sound installations, installations, concert music and songs.
Free Online Music Theory MOOC Course This Massive Open Online Courses (MOOC) program is designed to assist those wishing to develop their music theory skills as a musician and also to prepare for entrance tests for accredited music courses. For further information go to: Online Music Theory Studies .
Course admission profile
---
Apply now

Enquire now
Add to wishlist
| | |
| --- | --- |
| Course Code | BAMC3 |
| CRICOS Code | 085407G |
| Study Areas | Music |
| Study Level | Undergraduate |
| Course Type | Bachelor |
| Campuses | Box Hill Campus​​ |
Fees
| | |
| --- | --- |
| Tuition Fee Type | Estimated Annual Fee |
| International Fee | $17820.00 |
| | |
| --- | --- |
| Service Fees | Estimated Annual Fees |
| Service & Amenities* | $150 |
| Core Skills Support** | $70 |
| Annual Material Fees | No materials fee applies |
| Retain Course Items*** | No materials fee applies |

* Does not apply to VETiS or Short course students.
** Does not apply to VETiS, International students, Short Courses, Graduate Degrees , or re-enrolling students who re-enrol in the same course.
***Retained Course Items are purchased by the student once prior to commencing. The course items bought by the student become the property of the student. Such items retain a generic application for other purposes outside the student's course of study (e.g. textbooks).
The student tuition & material fees as published are subject to change given individual circumstances at enrolment. Fees listed are for 2018 and may increase annually over the duration of delivery. Advertised start dates and delivery locations are subject to viable student numbers. For more information please contact our Course Advisors on 1300 BOX HILL.

Academic Requirements
You must have:
have a folio of compositions to present; This is any combination of presented scores, live performed original songs and produced music files (MP3s, CDs, etc)
musicianship test- completion of a supervised musicianship test (will be sent upon receipt of student's application)
interview – you will be asked a series of questions relating to your suitability for the course. You should demonstrate a clear understanding of career goals and an aptitude for the course of study, including any relevant industry experience
English Language Requirements
A minimum IELTS overall score of 6.0 (Academic) with no band less than 5.5. A minimum TOEFL score of 550 for paper examination; 213 for computer based and 79 for Internet based.
For other accepted tests, please visit the English Language Requirements page .
Course Length
Full time: 3 years (classes take place on weekdays)
Mode of delivery is face to face.
You can graduate with the Associate Degree in Applied Music after 2 years of full time study.
Entry Requirements
Australian Year 12 or International equivalent with a pass, however relevant senior employment experience in industry will be considered.
Study Pathways
Successful completion will enable you to apply for entry to:
Box Hill Institute's Master of Music (Contemporary Practice)
honours, postgraduate diploma and master's courses at your chosen university
If you exit after completing 2 years equivalent, you will be eligible to graduate with an Associate Degree.
How to Apply
Direct entry. See how to apply or contact the international office .
Recognition of Prior Learning is available.
Accreditation
This course is accredited by the Tertiary Education Quality and Standards Agency (TEQSA) and the qualification is aligned with the Australian Qualification Framework (AQF) level 7 and Box Hill Institute Graduate Attributes.
Learning Outcomes
Graduates will be able to:
reflect skills and knowledge of the practices, languages, forms, materials, technologies and techniques in the creative and performing arts discipline of music
review, analyse and consolidate conceptual theories and processes in music creation and practice through integrated creative, critical and reflective thought
utilise cognitive and technical skills to demonstrate a broad understanding of the body of knowledge as applicable to music creation and practice
recognise and reflect on social, cultural and ethical issues, and apply local and international perspectives to problem solving practice in the Creative and Performing Arts discipline of Music
interpret, communicate and present ideas, problems and arguments coherently
develop research and evaluate ideas, concepts and processes through creative, critical and reflective thinking and practice
apply relevant skills and knowledge to produce and realise works, artefacts and forms of creative expression
work independently and collaboratively in the creative and performing arts discipline of music in response to project demands.
Career Outcomes
After completing this course, you will have the knowledge and skills to look for employment in the music (and related) industries. The range of roles in these industries are many and varied, and may include:
recording band artist
studio session musician
writer and arranger
record producer
studio engineer
production manager
producer/programmer/designer of music and multimedia software packages
production crew member (and many more!).
Industries may include the recording industry, music publishing, live performance, music retail, advertising, radio, film, video and television, music therapy, music education and music media.
Course Structure
First year – 14 core
Second year – 12 core and 2 electives
3rd year – 12 core and 2 electives
We expect to enrol between 25 and 60 students.
First Year Core
Code

Title

Points

MUT101
MUSIC TECHNOLOGY 1
3

This subject is the first of a sequence of two, and is designed to equip you with the technological skills expected of those working at a professional level in the music industry today, and you will receive instruction and undertake exercises using the latest sequencing software. You will also be required to set up a web page, upload graphic (music notation) and audio files, and produce MIDI files. You will receive instruction on acoustics, the theory and practice of recording principles, microphone types and modes of operation, personal address systems, equalisation, mixing desks, digital audio theory, signal flow and effects for live performance. You will be required to edit sound waves and create digital multitrack recordings.

Contact hours are 2 hour class (part lecture/part tutorial) for 12 weeks.
Prerequisites: None
Assessment: Remix assessment. Equivalent to 750 words 30%

MIDI and Sequencing Assignment, equivalent to 1250 words 70%

MUT102
MUSIC TECHNOLOGY 2
3

This subject is the second in a sequence of two, and is designed to equip you with the technological skills expected of those working at a professional level in the music industry today. The skills and knowledge acquired in this subject are crucial to your success in other subjects. The subject will cover modules such as performance and presentation – especially when working with technology, multimedia, audio production and musical sequencing. The classes will be a combination of theory lessons, practical classes and tutorials.

Contact hours are 2 hour class (part lecture/part tutorial) for 12 weeks.
Prerequisites: MUT101 MUSIC TECHNOLOGY 1
Assessment: Use sequencing software to compose/arrange a piece of music. Using global tracks, advanced drum programming, instrument design, audio recording and editing, compression and eq, insert and send fx. 30%

In-class test 20%

Create a soundtrack for a short film using Audio recordings, MIDI sequencing, mixing techniques, and film synchronising concepts. Present musical work and hand in entire Logic project file in zip format 50%

MUT103
THEORY 1: VOICE LEADING
3

This is the first in a sequence of six music theory subjects. Through the study of diatonic harmony, students will acquire a strong foundation in the elements of music upon which later music developed. By undertaking harmony exercises and harmonic analyses of excerpts from seminal diatonic compositions, students will acquire an understanding of the interrelationship of melody, harmony, dissonance, consonance, rhythm, motives and their development in the formation of musical forms. The evolution and influence of diatonic music of the past on the development of contemporary popular music, most notably on the development of popular vocal music, will be explicitly described in lectures and tutorials. The theoretical and aesthetic principles presented in lectures will be aurally reinforced through practical harmony exercises in tutorials, through which students will acquire a thorough understanding of the principles of four-part diatonic harmony and voice leading. Students will complete harmony exercises in vocal and keyboard styles. Students will present their harmony exercises in a music notation program; and they will realise their exercises by singing, playing or using MIDI, which will reinforce their aural training and encourage development of their 'mind's ear'.

Contact hours are 1 hour lecture, 1 hour tutorial for 12 weeks.
Prerequisites: None
Assessment: Quiz: online 10%
Analysis and Harmony Assignment 30%
Written Exam (Closed Book) 60 mins 60%

MUT104
THEORY 2: DIATONICISM
3

This is the second in a sequence of six music theory subjects. Through the study of diatonic harmony, students will acquire a strong foundation in the elements of music upon which later music developed. This second semester advances student knowledge on the introductory concepts presented in the first semester and introduces new material including modes, scales and structures applicable to contemporary music, seventh chords, secondary dominant chords and relevant part writing for contemporary music. Additionally, harmonic considerations and formal structure of American popular song standards and the various genres found in pop and rock music from the later part of the twentieth century will be investigated.

Contact hours are 1 hour lecture, 1 hour tutorial for 12 weeks.
Prerequisites: MUT103 THEORY 1: VOICE LEADING
Assessment: Harmony Exercises and worksheets (equivalent of 500 words) 20%
Analysis and Harmony Assignment (equivalent of 1000 words) 40%
Written Exam – one hour 40%

MUT105
HISTORY 1
3

History and Analysis 1 is the first in the sequence of three history subjects. Students will acquire theoretical knowledge of the development of jazz and popular music of the twentieth century, and analyse selected composers' works in depth. Particular attention will be paid to outlining the connections between the development of music and other arts as wells as socio-economic, cultural and technological changes happening in contemporary society. Students will analyse musical works of prominent composers from the artistic, cultural and technical perspectives. In this subject students will be introduced to investigation of music, and review of musicological writings, and use this knowledge to inform their musical experiences.

Contact hours are 1 hour lecture (online), 1 hour tutorial (online) for 12 weeks.
Prerequisites: None
Assessment: Analysis Essay (1200 words) 50%
On-line quizzes (Closed Book) 50%

MUT107
AURAL 1
3

Aural 1 is the first in the sequence of four subjects developing students' aural and music notation skills. They will learn to aurally recognise and sing melodic and harmonic intervals within an octave, major, minor and pentatonic scales and diatonic chords. Students will perform prepared melodies, sight-sing and transcribe simple diatonic melodies. Rhythmic work will include performing prepared progressions, sight-reading and transcribing rhythmic examples in 2-4, 3-4 and 4-4. Students will also learn to sing, aurally recognise and notate diatonic triads and inversions as well as various cadences. Aural training software will be incorporated into this subject in a self-guided learning module.

Contact hours are 2 hour practical for 12 weeks.
Prerequisites: None
Assessment: Assessment 1: Singing video – 10 minutes 15%
Assessment 2: Viva Voce test 1 – 10 minutes 20%
Assessment 3: Written Test of aural skills – 55 minutes 30%
Assessment 4: Viva Voce test 2- 10 minutes 25%
Assessment 5: Participation and preparation of group singing in class 10%

MUT108
AURAL 2
3

Aural 2 is the second in the sequence of four subjects in which students will further develop their aural skills, including notating, aurally recognising and singing intervals, scales, diatonic chords, chord inversions and progressions. Students will perform prepared melodies, sight-sing and transcribe diatonic melodies in simple and compound metres, some of which will be borrowed from the Baroque and Classical repertoire. Rhythmic work will include performing prepared progressions, sight-reading and transcribing rhythmic examples in simple and compound meters. Students will develop more extensive transcription abilities, consolidate their knowledge of harmonic practice, and acquire more comprehensive vocabulary for use in musical analysis. Aural training software will be incorporated into this subject in a self-guided learning module.

Contact hours are 2 hour practical for 12 weeks.
Prerequisites: MUT107 AURAL 1
Assessment: Assessment: Assessment 1:Viva Voce test 4 – 10 minutes 25%
Assessment 2:Viva Voce test 4 – 10 minutes 25%
Assessment 3:Written Test of aural skills – 55 minutes 50%

MUT109
KEYBOARD SKILLS
3

Keyboard Skills is designed to give students essential keyboard skills, with the expectation that many will begin at an introductory level. Students will be assessed in orientation week to ensure placement in the correct section of the class, with more advanced students having the option to test out of the subject. Students will perform a variety of completed notated pieces, as well as develop an understanding of voicings appropriate to jazz and contemporary music styles.

Contact hours are 2 hour practical each week for 12 weeks.
Prerequisites: None
Assessment: Assessments
1. Performance of realised chord progression 20%
2. In class assignments 40%
3. Final exam: performance of set pieces 40%

MUT121
COMPOSITION STUDIES 1
6

Composition Studies 1 is the first of six composition studies subjects. The composition studies stream focusses on developing, applying and refining techniques, skills and devices pertinent to contemporary composers.

Composition Studies 1 aims to equip students with a thorough understanding of the melodic, harmonic, rhythmic, textural and structural elements of music and the ability to apply this knowledge in composition. Through a variety of ongoing exercises in analysis and composition students will acquire and consolidate knowledge of technical and aesthetic aspects of composing. Particular attention will be paid to learning the principles of the motivic and rhythmic development. Assessments will include composing melodies to given chordal progressions and following the conventions of specific musical styles.

The weekly forum provides an opportunity for students to interact with their peers, as well as other students from the Music Department in an open and flexible format.

Contact hours are 4 hours each week for 12 weeks.
Prerequisites: None
Assessment: Assessment:
1. Composition 1, motivic work 30%
2. Composition 2, Melodic work 30%
3. Composition 2, Score analysis project 40%

MUT122
COMPOSITION STUDIES 2
6

Composition Studies 2 is the second of six composition studies subjects. The composition studies stream focusses on developing, applying and refining techniques, skills and devices pertinent to contemporary composers.

Composition Studies 2 continues to develop students' understanding of the melodic, harmonic, rhythmic, textural and structural elements of music and ability to apply this knowledge in composition. This class introduces students to the fundamentals of orchestration and the concepts of music arranging. Students will apply the principles of counterpoint and harmonisation, motivic development, extension of themes, development of rhythmic and textural devices and creation of convincing musical forms in their creative work. Through a variety of ongoing exercises in analysis and composition, students will consolidate knowledge of technical and aesthetic aspects of composition and continue to develop a vocabulary of compositional techniques and ideas.

The weekly forum provides an opportunity for students to interact with their peers, as well as other students from the Music Department in an open and flexible format.

Contact hours are 4 hours each week for 12 weeks.
Prerequisites: Composition Studies 1
Assessment: Assessment 1. String Transcriptions, plus a Piano and String Exercise. 30%
Assessment 2. Voice Exercise 15%
Assessment 3. Arranging Project 55%

MUT123
COMPOSITION CONTENT B1: SONGWRITING 1
3

Songwriting 1 is the first in a sequence of four songwriting subjects. Students undertaking Songwriting 1 will analyse many of the musical devices and conventions that exist in popular and jazz song genres and then apply this knowledge to their own compositional endeavours, at an introductory level. The content of 'Principles of Songwriting' is iterative. Although each level has a particular focus, the songwriter's creative building blocks of melody, harmony, lyric, form, groove and style or character are revisited and explored with increasing sophistication in all four levels of the subject. The delivery style of all four levels includes the same four basic components. 1. Composing independently. 2. Collaboration i.e. working with others to compose and develop songs. 3. Presentation/Publishing (the word 'Publishing' is used loosely to mean the issuing of a copy or copies and includes a broad focus on contemporary technology). 4. Performance (which takes many forms and includes attempts to reach out to the community in which the course operates). Songwriting 1 is delivered at an introductory level, presenting students with basic concepts on which to develop their individual voice in songwriting.

Contact hours are 2 hours practical for 12 weeks.

Prerequisites: None
Assessment: Collaborative song writing project 40%
Song Composition, equivalent to 750 words 60%

MUT124
COMPOSITION CONTENT B2: SONGWRITING 2
3

Songwriting 2 is the second in a sequence of four songwriting subjects. In Songwriting 2, students will analyse many of the musical devices and conventions that exist in popular and jazz song genres and then apply this knowledge to their own compositional endeavors. Songwriting 2 will primarily deal with lyric writing and form, with some focus on groove, style and character. This subject includes four basic components: 1) independent composition, 2) collaborative composition, 3) presentation/publishing, and 4) performance. The term 'publishing' is used loosely in the context of this subject, focusing on contemporary technology and meaning the issuing of one or more copies. Performance may take many forms and includes reach out events in the community in which the course operates. Songwriting 2 is delivered at an intermediate level, building on concepts explored in Songwriting 1. Students will continue to develop a sense of personal style in songwriting, and gain a deeper insight into structures and techniques in contemporary song writing.

Contact hours are 2 hours practical for 12 weeks.

Prerequisites: MUT123 COMPOSITION CONTENT B1: SONGWRITING 1
Assessment: Reflective Journal – incorporating song drafts and task (equivalent 1000 words) 30%
Class participation/song draft presentation (equivalent 500 words) 10%
Song Composition (equivalent 1500 words) 60%

MUT125
COMPOSITION CONTENT A1: FILMSCORING 1
3

Composition A1: Introduction to Film Scoring 1 is the first of six film and media subjects designed to equip students with the necessary introductory skills and knowledge required to identify, describe, compose and arrange music for film cues. Through the historical study and introduction to theoretical analysis of film music, students will develop an understanding of the aesthetic role and function of music in the film context. Students will consider film scores with reference to established compositional techniques and their applications in defined social, historical and commercial contexts. Using these aesthetic and musical concepts as the foundation, students will develop compositional skills pertinent to film music.

Contact hours are 2 hours practical for 12 weeks.
Prerequisites: None
Assessment: Essay on an historical aspect of music for film (1000 words) 40%
Analysis and Essay (1000 words) on use of music in assigned films 40%
Scoring Assignment, equivalent to 500 words 20%

MUT126
COMPOSITION CONTENT A2: FILMSCORING 2
3

Composition A2: Introduction to film scoring II is the second of six film and media subjects designed to equip students with the necessary developing skills and knowledge required to identify, describe, compose and arrange music for film cues. Through the historical study and introduction to theoretical analysis of the various genres of post-1950s film music, students will further develop understanding of the aesthetic role and function of music in the film context. Students will consider film scores with reference to established compositional techniques and their applications in defined social, historical and commercial contexts. Using these aesthetic and musical concepts as the foundation, students will continue to develop compositional skills pertinent to film music.

Contact hours are 2 hours practical for 12 weeks.

Prerequisites: MUT125 COMPOSITION CONTENT A1: FILMSCORING 1
Assessment: Class exercises 40%
Swinburne University collaboration or alternative – compose, edit and synchronise music to a short movie extract (equivalent 750 words) 60%
Second Year Core
Code

Title

Points

MUT203
THEORY 3: JAZZ HARMONY
3

This is the third in a sequence of six music theory subjects. Delivered as a one-hour lecture and a one-hour tutorial, conducted in a computer laboratory. Each computer work station is equipped with a MIDI keyboard, music notation and music sequencing programs. The theoretical and aesthetic principles presented in lectures are aurally reinforced in practical harmony exercises in tutorials, through which students will acquire a thorough understanding of the principles of jazz harmony, jazz voice leading and musical form. The evolution and influence of diatonic and chromatic music of the past on the development of contemporary jazz will be explicitly described in lectures and tutorials.

Contact hours are 2 hours (lecture/tutorial) for 12 weeks.
Prerequisites: MUT104 THEORY 2: DIATONICISM
Assessment: Assessment: Analysis and Harmony Assignment 40%
Written Exam (Closed Book) – 90min 60%

MUT204
THEORY 4: ARRANGING
3

This is the fourth in a sequence of six music theory subjects. Delivered as a one-hour lecture and a one-hour tutorial, conducted in a computer laboratory. Each computer work station is equipped with a MIDI keyboard, music notation and music sequencing programs. The theoretical and aesthetic principles presented in lectures are aurally reinforced through practical harmony exercises in tutorials, through which students will acquire a thorough understanding of the principles of arranging for various ensembles. This subject focuses on the practical applications of the voice leading techniques and harmonic practices studied in Theory 1, Theory 2 and Theory 3. Students will analyse, compose and arrange jazz harmony exercises for ensembles in two to five parts. Students will present their arrangements in a music notation program; and they will realise their exercises/compositions by singing, playing and/or using MIDI, which will reinforce their aural training and encourage development of their 'mind's ear'
.
Contact hours are 2 hours (lecture/tutorial) for 12 weeks.
Prerequisites: MUT203 THEORY 3: JAZZ HARMONY
Assessment: Assessment: Arranging Assignment – 1 (equivalent to 750 words) 50%
– Witten Exam (closed book) (equivalent to 1000 words) 50%

MUT205
HISTORY 2
3

History and Analysis 2 is the second in the sequence of three history and analysis subjects. Students will acquire theoretical knowledge of a portion of the history of Western Music, from the middle ages to Romanticism. Particular attention will be paid to outlining the connections between the development of music and other arts as wells as socio-economic, cultural and technological changes in society. Students will analyse musical works of prominent composers from artistic, cultural and technical perspectives. Connections between previously learned styles of music and modern music practices will be emphasised and used to further contextualise the study of harmony and fundamental aural perception. In this subject, students will further develop their ability to investigate music, and review musicological writings, and use this knowledge to inform their musical experiences.

Contact hours are 1 hour lecture, 1 hour tutorial for 12 weeks.
Prerequisites: MUT105 HISTORY 1
Assessment: Analysis essay (1000 words) 40%
Listening review (500 words) 30%
Written and listening exam (60 mins) 30%

MUT206
HISTORY 3
3

History and Analysis 3 is the final in the sequence of three history and analysis subjects. Students will acquire theoretical knowledge of Romantic, 20th Century, and the current trends in music around the globe, and analyse selected practitioners' works in depth. Various musical traditions and their influence on contemporary music will be studied. Particular attention will be paid to outlining the connections between the development of music styles, genres, instruments and the cultural aspects of given societies. Through the study of world music and recent trends, students will expand their appreciation of the diversity of aesthetic expression. The connections between previously learned styles of music and modern music practices will be emphasised and used to further contextualise the study of harmony and fundamental aural perception. In this subject students will develop the ability to research and analyse music, review and evaluate musicological and ethno-musicological writings, and use this knowledge to inform their musical experiences.

Contact hours are 1 hour lecture, 1 hour tutorial for 12 weeks.
Prerequisites: MUT205 HISTORY 2
Assessment: Assessment 1:Essay 1: Music of the Classical Period. 33.3%
Assessment 2: Essay 2: Music of the 19th Century. 33.3%
Assessment 3: Essay 3: Music of the 20th and 21st Centuries. 33.3%

MUT207
AURAL 3
3

Aural 3 is the third subject in the four subject aural skills sequence. Students will apply their knowledge in practice through completion of aural analysis tasks designed to help students internalise musical elements comprising those musical styles. Students will develop more extensive transcription abilities, consolidate their knowledge of harmonic practice, and acquire more comprehensive vocabulary for use in musical analysis. Students will further develop their aural skills, including notating, aurally recognising and performing rhythmic progressions, intervals, scales, chords, chord modifications and inversions and chord progressions. Particular attention will be paid to developing students' confidence and independence in transcribing and performing melodies, rhythms and chord progressions specifically derived from the Romantic and Impressionistic music repertoire. Students will further explore diatonic and non-diatonic melodies, complex rhythms in compound and odd meters, chromaticism and non-triadic chord structures. Various group and individual in-class activities and out-of-class exercises using aural training software will develop the skills required for students to complete full transcriptions of musical works.

Contact hours are 2 hours practical for 12 weeks.
Prerequisites: MUT108 AURAL 2
Assessment: Viva Voce exam 1 (5 min) 30%
Viva Voce exam 2 (5 min) 30%
Written aural exam (50 min) 40%

MUT208
AURAL 4
3

Aural 4 is the final in the sequence of four aural skills and development subjects. Students will apply this knowledge through completion of aural analysis tasks designed to help students internalise musical elements comprising various world music styles. Students will develop more extensive transcription abilities, consolidate their knowledge of harmony, and acquire more comprehensive vocabulary for use in musical analysis. Students will learn a dozen short excerpts from World Musical and learn to identify and sing a dozen microtonal scales from World Musical Cultures. Students will acquire aural and theoretical skills that extend beyond the conventions and imperatives of diatonic music of previous centuries to embrace non-Western and post-tonal music, the use of modes and polytonality, contemporary harmonic devices, and the use of polyrhythm and mixed metre. Through the study of world music and recent trends, students will expand their appreciation of the diversity of aesthetic expression. The connections between previously learned styles of music and modern music practices will be emphasised and used to further contextualise the study of harmony and fundamental aural perception. Students will further develop their aural skills, including notating, aurally recognising and performing rhythmic progressions, intervals, scales, chords, chord modifications and inversions and chord progressions. Particular attention will be paid to developing students' confidence and independence in transcribing and performing melodies, rhythms and chord progressions. Students will further explore complex rhythms in compound and odd meters.

Contact hours are 2 hour practical for 12 weeks.
Prerequisites: MUT207 AURAL 3
Assessment: 2 Viva Voces 30% + 30%
1 Written Test 40%

MUT221
COMPOSITION STUDIES 3
6

Composition Studies 3 is the third of six composition studies subjects. The composition studies stream focusses on developing, applying and refining techniques, skills and devices pertinent to contemporary composers.

In Composition Studies 3, students continue to develop compositional techniques that include motivic development, extension of themes, development of rhythmic devices, texture as a compositional determinant and creation of convincing musical forms. Students will concentrate on composing for the orchestra, learning ranges of the instruments, specifics of the playing techniques and transposition. Knowledge and skill in the use of appropriate voicing and timbre combinations, and the practical application of contrapuntal writing in the Baroque style are central elements of this study. Students will develop more extensive compositional resources to support their developing conceptual and expressive palette. Students will aim to develop considerable fluency in stylistic part writing and part 'interlocking' as a foundation for the orchestral cue construction. Through a variety of ongoing exercises in analysis and composition, students will consolidate knowledge of technical and aesthetic aspects of composing and continue to develop a vocabulary of compositional techniques and ideas.

The weekly forum provides an opportunity for students to interact with their peers, as well as other students from the Music Department in an open and flexible format.

Contact hours are 4 hours per week for 12 weeks.
Prerequisites: Composition Studies 2
Assessment: 1. Woodwind Composition 25%
2. Brass and Percussion Composition 25%
3. Composition analysis for full orchestra 25%
4. Orchestra Exercises 25%

MUT222
COMPOSITION STUDIES 4
6

Composition Studies 4 is the fourth of six composition studies subjects. The composition studies stream focusses on developing, applying and refining techniques, skills and devices pertinent to contemporary composers.

In Composition Studies 4 students will focus on the concepts of arranging and orchestration with particular emphasis on writing for large ensembles. Concepts will include instrumental colour, layering and balance, inventiveness and applications of compositional techniques and devices to arranging skills. Composition exercises may include writing for traditional and unconventional instrumental groups, and using advanced compositional and orchestration techniques to create appropriate but interesting variations of foundation motifs and melodies arrangements. Students will acquire more extensive compositional resources to support their developing conceptual and expressive palettes, motivic and melodic development, extension of themes, development of rhythmic devices, use of texture as a compositional determinant and creation of convincing musical forms.

The weekly forum provides an opportunity for students to interact with their peers, as well as other students from the Music Department in an open and flexible format.

Contact hours are 4 hours per week for 12 weeks.
Prerequisites: Composition Studies 3
Assessment: 1. Counterpoint exercises 20%
2. Lead-sheet exercise 10%
3. Major project 1: Florid Counterpoint 20%
4. Major Assignment 2: Big Band composition 50%

MUT223
COMPOSITION CONTENT B3: MEDIA TECHNOLOGY 1
3

Composition B3: Media Technology is designed to equip students with the technological skills expected of those working at a professional level in the modern music industry. Students will engage in advanced MIDI projects and undertake advanced exercises using the latest sequencing software. Students will record and edit sound waves, and apply appropriate effects in order to modify and enhance various sounds, and create non-traditional soundscapes in virtual environments. Through a series of explorative aural exercises, students will learn to differentiate between various sounds and make artistic judgment while synthesising new timbres. Ideas of Shafer will be introduced in this class and explored through discussions and practical exercises. Students will further develop the skill of active listening through learning to identify a variety of sounds and sound variations occurring in given environments and use this knowledge when creating their own soundscapes. In a major class project, students will replicate a given musical example, trying to achieve the exact sound of the original.

Contact hours are 2 hours per week for 12 weeks.
Prerequisites: None
Assessment: 1. Sample Bases Composition 40%
2. Synth Programming task 60%

MUT224
COMPOSITION CONTENT B4: MEDIA TECHNOLOGY 2
3

Composition B4: Media Technology is designed to further develop students' technological skills needed for working at a professional level in the modern music industry. Students will engage in advanced MIDI and audio projects and undertake advanced exercises using the latest sequencing software. As a preparatory step toward creating more complex virtual environments, students will learn to construct timelines specifying the occurrence of sonic events, applying and enhancing their active listening skills and knowledge acquired during the previous semester. Students will work with visual material, synchronising audio events with visual cues. Students will create sound tracks that realistically reproduce the entire sound palette that would naturally occur in the given video clips. During such projects students will use their creative judgment to craft aesthetically advanced synthesised and recorded sounds with appropriate effects.

Contact hours are 2 hours per week for 12 weeks.
Prerequisites: Media Technology 1
Assessment: 1. Mixing Assessment 40%
2. Major composition using extended techniques 60%

MUT225
COMPOSITION CONTENT A3
3

Composition A3: Scoring for Media 1 focuses on composing for documentaries and corporate videos. Students will encounter practical aspects of carrying out film composition projects including budgeting, scheduling, calculating SMPTE, developing scoring concepts and using technology for recording and timing music. This subject aims to give students a thorough understanding of the application of contrapuntal composition to film composition. Students will study compositional techniques employed by various film composers, and apply their knowledge in scoring a series of short musical excerpts to accompany film sequences. Up-to-date technology will be used in this class to synchronise music scores to film. Students will further their ability to evoke an emotional response and reflect/enhance dramatic action in the film with music. The analysis of the film industry structure will enable students to perform in accord with the defined industry roles. Students will create scoring exercises throughout the semester, one of which will include a cueing exercise using a Yamaha Synclavier.

Contact hours are 2 hours per week for 12 weeks.
Prerequisites: Composition Content A2
Assessment: 1. Scoring Exercises 30%
2. Oral Presentation and scoring assignment 30%
3. Documentary Assignment Including Oral Presentation 40%

MUT226
COMPOSITION CONTENT A4
3

Scoring for Media 2 focuses on composing for film, TV and multi-media. Through various investigative and analytical activities, students will examine the requirements and standards set in place by the industry, and will compose music that reflects their understanding and ability to follow the standards whilst demonstrating creativity and independent thinking. Students will gain knowledge of the latest software geared toward composing for media and employ the appropriate software in their class projects. Students will continue to view and analyse existing, exemplary applications of the concepts studied in class in commercial music.

Contact hours are 2 hours per week for 12 weeks.
Prerequisites: Composition Content A3
Assessment: 1. Scoring Exercises 30%
2. Scoring Assignment 30%
3. Major Project – collaborative work with Swinburne University film students 40%
Third Year Core
Code

Title

Points

MUT303
THEORY 5: CHROMATICISM
3

This is the fifth in a sequence of six music theory subjects. It is delivered as a one hour lecture and a one hour tutorial. The latter is conducted in a computer laboratory. Each computer work station is equipped with a MIDI keyboard, music notation and music sequencing programs. The theoretical and aesthetic principles presented in lectures are aurally reinforced through practical harmony exercises in tutorials, through which students will acquire a thorough understanding of the principles of chromatic harmony, voice leading and musical form. Students will realise their exercises and compositions by singing, playing and/or using MIDI, which will reinforce their aural training and encourage development of their 'mind's ear'. students will acquire a strong foundation in the elements of music that shaped the music of the late Classical, Romantic, and, to some extent, the Impressionistic eras. Through harmonisation exercises and harmonic analyses, students will acquire an understanding of how tonicisation, modal mixture and chromatically altered chords can affect modulations to distantly related keys.

Contact hours are 1 hour lecture, 1 hour tutorial for 12 weeks.
Prerequisites: MUT204 THEORY 4: ARRANGING
Assessment: In class assessable analysis 1 25%
In class assessable analysis 2 25%
Written Exam (closed book) 120 min 50%

MUT304
THEORY 6: BEYOND TONALITY
3

This is the final in a sequence of six music theory units. Delivered as a one-hour lecture, and one-hour tutorial, which is conducted in a computer laboratory, where each computer work station is equipped with a MIDI keyboard, music notation and music sequencing programs. The theoretical and aesthetic principles presented in lectures are aurally reinforced through practical harmony exercises in tutorials, through which students will acquire a thorough understanding of the principles of post-tonal harmony, voice leading and musical form. This subject focuses on seminal post-tonal theories, the associated repertoire, and the aesthetic principles underlying musical trends in the art-music genres of the twentieth and twenty-first centuries. This subject draws on knowledge and skills acquired through the previous five theory subjects. The notions of consonance and dissonance will be shown to be relative concepts. In addition, techniques that are not overtly utilised in mainstream popular music, but have been utilised by experimental jazz artists and creators of music that exists at the fringes of popular culture, will be explored. The evolution and influence of non-tonal practices and experimental music of the twentieth and twenty-first centuries on the development of recent music will be explicitly described in lectures and tutorials.

Contact hours are 1 hour lecture, 1 hour tutorial for 12 weeks.
Prerequisites: MUT303 THEORY 5: CHROMATICISM
Assessment: Harmony Exercises, equivalent to 1000 words 40%
Analysis and Harmony Assignment, equivalent to 750 words 30%
Written and Listening Exam – 45min 30%

MUT305
AESTHETICS AND RESEARCH SEMINAR 1
3

In Aesthetics and Research Seminar 1, various philosophies of aestheticism and a variety of music research methodologies will be explored. The influence of culture on the perception and interpretation of music, and the role of musical structure on aesthetics will be investigated. Topics for investigation will include the notions of music being intrinsically aesthetic; the notions of banality and cliche in reference to musical and artistic sentimentality; emotional expression in music; and notions of the intrinsic value of music. The differences and applications of quantitative and qualitative research will be explored. Various modes for interpreting and presenting research data will be investigated. You will acquire collaborative and individual investigative skills in preparation of group research projects.

Contact hours are 2 hour lecture for 12 weeks.
Prerequisites: None
Assessment: 'Questions' Journal for class sessions 20%
Essay draft, including Topic development, list of sources and Formal Outline (750 words) 30%
Aesthetics Research Project – Final Essay (1250 words) 50%

MUT306
AESTHETICS AND RESEARCH SEMINAR 2
3

Aesthetics and Research Seminar 2 will challenge you to evaluate the place and function of music and arts in Australian society. Various philosophies of aestheticism and a variety of advanced music research methodologies will be explored. The influence of culture, particularly the Australian culture on the perception and interpretation of music, and the role of musical structure on aesthetics will be investigated. The differences and applications of quantitative and qualitative research will be utilised and various modes for interpreting and presenting research data will be investigated. You will further develop your collaborative and individual investigative skills culminating in the preparation of a major individual research project.

Contact hours are 2 hour lecture for 12 weeks.
Prerequisites: MUT305 AESTHETICS AND RESEARCH SEMINAR 1
Assessment: Essay questions 50%
Final essay 40%
Attendance and participation 10%

MUT307
MUSIC BUSINESS 1
3

This is the first of two subjects designed to give graduates a broad overview of the function of the music business, domestically and internationally.
Music Business 1 focuses on copyright, publishing and business management. This subject introduces students to copyright ownership and exploitation, the role of publishers and copyright collection societies. Students will examine in detail the roles of managers, booking agents and record companies in the exploitation of artists and their works. During this subject students will be introduced to the basics of business planning and organisation, business management and administration, contracts, music licensing and various associated rights in the music industry. Students will acquire knowledge and skills required to operate successfully in the music industry. Students will investigate and meet music industry standards with reference to business and administrative criteria.

Contact hours are 2 hour lecture for 12 weeks.
Prerequisites: None
Assessment: Assessment 1: Industry Standard Biography & Concise 2 Page Promotional Plan 20%
Assessment 2: Draft your own engagement agreement and PERFORMERS create a stage plot for your preferred version of your production. AUDIO engineers creates an operations manual.40%
Assessment 3: Business Feasibility Study (1000 words) 40%

MUT308
MUSIC BUSINESS 2
3

This is the second of two subjects designed to give graduates a broad overview of the function of the music business, domestically and internationally.
The business component will investigate the key elements of entrepreneurial thinking and business creation as well as the current climate of the music industry so that students can apply entrepreneurial thinking to their own prospective music industry careers. Students will compile individual and group work portfolios that may include self-promotional materials, business pitches, group CD production, product launch and online e-commerce projects. Guidance in project management, business, strategic and financial planning will facilitate the research projects to be undertaken. Emphasis will be placed on implementing and marketing ideas developed during the semester. Students will gain practical experience in the music industry in a variety of situations through the delivery of a specific project working as team members.

Contact hours are 2 hour lecture for 12 weeks.
Prerequisites: MUT307 MUSIC BUSINESS 1
Assessment: Assessment 1: Sales pitch presentation Week 13 – October 26 20%
Assessment 2: Marketing Plan Week 14- November 2 60%
Assessment 3: Exam – Covering marketing theories, key terms and concepts. Exam Period 20%

MUT321
COMPOSITION STUDIES 5
6

Contemporary Composition Techniques will focus on the applications of compositional developments in the twentieth and twenty-first centuries to the composition of concert music, and film and media scores. The aesthetic differences between composing functional music and concert music will be examined. The focus will be on compositional processes, particularly algorithmic compositional processes as they have been applied to the organisation of various musical parameters, but especially pitch and rhythmic organisation. Complex musical structures of seminal works will be studied and analysed. The concepts of integer notation, pitch-class, interval-class, interval vector, common tone theorems, set symmetry and pitch-class set relationships will be examined. Students will be required to compose works utilising set theory and related theories. The application of mathematics to composition in the works of various composers will be examined. Extended instrumental techniques and unconventional music notations will be examined and utilised in students' composition assignments. The emancipation of dissonance, instrument exploration, new notations, indeterminacy, microtonality, micropolyphony and stochastics will be studied and applied in students' works.

Contact hours are 4hrs each week for 12 weeks.
Prerequisites: Composition Studies 4
Assessment: Assessment 1: Composition Assignment 1 – New Sounds and New Notations 30%
Assessment 2: Composition Assignment 2 Exploration od Sound Mass 40%
Assessment 3: Composition Assignment 3 Minimalist work for Disklavier 30%

MUT322
COMPOSITION STUDIES 6
6

Composition Studies 6: Senior Concert can be considered to be the capstone experience for composition students at Box Hill Institute. Students will work closely with a faculty mentor, either in small groups or individually, to compose, prepare and present a concert of their own works. The intent of this subject is to bring the previous composition studies subjects together to create a representative folio of works of the graduating student. It is anticipated that senior concerts will be presented during the final weeks of semester, with performances involving collaboration with both performance and audio students.

Contact hours are 4 hours each week for 12 weeks.
Prerequisites: Composition Studies 5
Assessment: 1. Scoring Exercises 30%
2. Scoring Assignment 30%
3. Major Project – collaborative work with Swinburne University film students 40%

MUT323
COMPOSITION CONTENT B5: SOUND DESIGN 1
3

Composition B5: Sound Design will introduce students to the history of sound design, various sound design platforms and MIDI orchestration in relation to the production of sound design. This subject will explore industry roles and skills of a contemporary sound designer. Students will be introduced to Foley, diegetic and non-diegetic sounds for film and games, and the affective relationship between sound and image. Students will be required to produce sound designs for moving images within short time frames, thereby emulating real conditions in the film and game audio industries.

Contact hours are 2 hours per week for 12 weeks.
Prerequisites: None
Assessment: Assessment 1: Senior Concert preview – discussion and pre-concert performance demonstrating work toward senior concert 20%
Assessment 2: Senior Concert 50%
Assessment 3: Senior Concert Folio 30%

MUT324
COMPOSITION CONTENT B6: SOUND DESIGN 2
3

Composition B6: Sound Design aims to further develop students' skills and abilities to compose music and sound design for film and games using appropriate design and composition platforms. Students will further develop their understanding of the history of film, and game sound design and music, methods and techniques of creating sound designs, and the roles and approaches of various film composers and sound designers. They will also explore and use various technologies for composition and sound design, and develop their understanding of affective relationship between sound and image to an advanced level. Students will be required to produce high quality sound designs for moving images within short time frames, thereby emulating real conditions in the film and game audio industries.

Contact hours are 2 hours each week for 12 weeks.
Prerequisites: Composition Content B5
Assessment: Assessment 1: Sound Design Review 20%
Assessment 2: MIDI Composition and Foley Sound Design Assignment 20%
Assessment 3: Final Sound Design Project 60%

MUT325
COMPOSITION CONTENT A5
3

Composition A5: Advanced Film Scoring 1 is the fifth of six film and media subjects designed to advance students' ability to analyse, evaluate, compose and arrange music for various media. This subject builds on the theoretical knowledge acquired in the previous semesters, but takes a more practical approach to learning composition and scoring techniques in composing music for film. In Advanced Film Scoring 1, students will consolidate and synthesise their knowledge of music scoring techniques by creating music for a range of film projects for in-house and/or external clients. The projects will simulate the film industry and the processes in which composers work with directors and producers. In collaboration with clients, students will create the music from thematic design through to musical arrangement and final recorded soundtrack.

Contact hours are 2 hours each week for 12 weeks.
Prerequisites: Composition Content A4
Assessment: Assessment 1: Concept Exercise 10%
Assessment 2: Motives Exercise 10%
Assessment 3: 'The Godfather' Analysis 20%
Assessment 4: 'The Pact' Thriller Theme 10%
Assessment 5: Students will compose a soundtrack to a section of a film 50%

MUT326
COMPOSITION CONTENT A6
3

Composition A6: Advanced Film Scoring 2

This is the last of six film and media subjects designed to advance students' ability to analyse, evaluate, compose and arrange music for various media. This subject builds on the theoretical knowledge acquired in the previous semesters, but takes a more practical approach to developing composition and scoring techniques in composing music for media. The concepts introduced in the previous semester will be reinforced and developed through lectures and practical composition exercises.

Contact hours are 2 hours each week for 12 weeks.
Prerequisites: Composition Content A5
Assessment: Assessment 1: Film Scoring Assignment 1 20%
Assessment 2: Film Scoring Assignment 2 20%
Assessment 3: Scoring of a Short Film 60%
Electives
Code

Title

Points

MUS335
AUDIO C5: CREATIVE TECHNOLOGIES
3

This subject deals with the theory of creativity in a digital environment. Definitions of 'technology' will be examined to reveal the roles that technologies have played in the development of human achievement. Several modes for making music with technologies will be examined. These will include the use of the computer as a musical tool, the computer as a musical instrument and the computer as a musical medium. Philosophical issues surrounding the use of technologies in the creative process will be studied to reveal more productive approaches to the implementation of musical ideas. Howard Gardner and Mihaly Csikszentmihalyi's theories on the psychology of creativity, creative flow and music making will be examined. By the end of this unit, students will be able to recognise the best ways to approach digital technology in order to amplify musical ideas. Students will acquire strategies to enhance productivity and remain in a natural, creative state of mind.

Contact hours are 2 hours practical for 12 weeks.
Prerequisites: None
Assessment: This elective subject explores the theory of creativity in a digital environment. Several modes for making music with technologies will be examined. These will include the use of the computer as a musical tool, the computer as a musical instrument and the computer as a musical medium. Philosophical issues surrounding the use of technologies in the creative process will be studied to reveal productive approaches to the implementation of musical ideas. By the end of this unit, you will be able to recognise the best ways to approach digital technology in order to express musical ideas.

MUS336
AUDIO C6: CREATIVE TECHNOLOGIES
3

This subject involves the practical application of the theories of creativity in a digital environment that were studied in the first semester. Students will undertake a number of group and individual projects involving the creation of interactive sound installations. They will utilise and design various technological interfaces in order to amplify their musical ideas. Through these projects, students will acquire an understanding of several modes for making music with technologies. These will include the use of the computer as a musical tool, the computer as a musical instrument and the computer as a musical medium.

Contact hours are 2 hours practical for 12 weeks.
Prerequisites: MUS335

MUT133
AUDIO B1: ELECTRONIC MUSIC HISTORY
3

Electronic Music History 1 is the first of two in the stream of elective subjects focussed on electronic music and interactive computer music systems. Contemporary electronic and electroacoustic music has a history of more than a century. The focus of this subject is the development of pre-digital electronic music. Examples of electroacoustic music, principal practitioners, and the technologies and influences on this music will be analysed. You will learn a variety of philosophies and genres within electroacoustic music. You will learn to recognise different artists and your works. Movements such as Musique Concrete, Elektronische Musik, Futurism, and soundscape composition will be examined.

Contact hours are 2 hours practical for 12 weeks.

Prerequisites: None
Assessment: Individual Class Oral Presentations on selected topics (10 minutes, equivalent of 500 words) 20%
Essay (500 words) 20%
Written (60 minutes) and Listening Exam (30 minutes) 60%

MUT134
AUDIO B2: ELECTRONIC MUSIC HISTORY
3

Electronic Music History 2 is the second two subjects focussed on electronic music and interactive computer music systems. The focus of this subject is the development of digital electronic music. Examples of electroacoustic music, principal practitioners, the technologies and influences on this music will be analysed. You will learn to recognise different artists and their works. Recent developments in electroacoustic music will be examined. Synthesisers, drum machines, off-the-shelf electronic musical gear, sampling and electronica will be examined to reveal the impact on the development of electroacoustic music. Recently composed seminal works will be studied and analysed with a view to revealing the compositional and technological processes.

Contact hours are 2 hours practical for 12 weeks.

Prerequisites: MUT133 AUDIO B1: ELECTRONIC MUSIC HISTORY
Assessment: Essay on synthesis: choose a synthesis method and write about how the technique was developed, how it works, and discuss a notable musical piece written using this technique. 750 words 30%
8-bit song – chip tune: create a musical piece using very strict guidelines to emulate the conditions of an 8-bit computer. Present the piece in class. Equivalent of 750 words 30%
Exam (Written and Listening) 1hr 40%

MUT135
AUDIO CONTENT C1: PRODUCTION PRINCIPLES 1
3

This subject is the first of two in the stream of music production elective subjects, and the focus is on production principles using the industry-standard audio production platform, Pro Tools. You will learn fundamental skills such as understanding of basic audio signal flow and gain structure, as applicable to analogue recording mediums. You will learn about the nature of sound and will be able to discuss this and other topics using correct terminology. Basic recording projects will be undertaken.

Contact hours are 2 hours practical for 12 weeks.

Prerequisites: None
Assessment: Signal Flow and Gain Structure Assignment (equivalent of 750 words) 30%
Microphone Polar Pattern Test (equivalent of 1000 words) 40%
Stereo Microphone Placement Assignment (equivalent to 750 words) 30%

MUT136
AUDIO CONTENT C2:PRODUCTION PRINCIPLES 2
3

This subject is the second of two in the stream of music production elective subjects. You will complete an entire multitrack recording and create a digital mix to a two track finished CD using Pro Tools. This will be achieved through a combination of class and independent work. External effects, overdubbing, dropping in techniques, compression and basic mastering will be studied. You will develop an understanding of microphone recording techniques in a studio setting. The correct positioning of microphones and the use of compression and gating for voice, guitar and drums will studied in theory and in practice.

Contact hours are 2 hours practical for 12 weeks.
Prerequisites: MUT135 AUDIO CONTENT C1: PRODUCTION PRINCIPLES 1
Assessment: Multitrack Recording Assignment and, equivalent to 1250 words 50%
Log Book 50%

MUT151
INSTRUMENTAL STUDIES 1
3

Through performing in ensembles, students acquire theoretical knowledge and practical skills in music performance, which complement and broaden the knowledge that they receive through their specialised disciplines. Ideally, students will take the same subject/ensemble for a full academic year, ensuring consistency and stability of performance groups. Students may elect to concentrate on an instrument that is not their primary focus (guitar workshop, string workshop, percussion workshop or keyboard workshop), or to participate in an ensemble that augments their study on their primary instrument (mixed ensemble, choir, or jazz ensemble).

Contact hours are 2 hours practical for 12 weeks.

Prerequisites: None
Assessment: Mid-semester performance assessment (15 minutes) 30%
Ongoing assessment tasks (may be written, or practical, or a combination) (equivalent to 500 words) 20%
End-of-semester performance (20 minutes) 50%

MUT152
INSTRUMENTAL STUDIES 2
3

Through performing in ensembles, students acquire theoretical knowledge and practical skills in music performance, which complement and broaden the knowledge that they receive through their specialised disciplines. Ideally, students will take the same subject/ensemble for a full academic year, ensuring consistency and stability of performance groups. Students may elect to concentrate on an instrument that is not their primary focus (guitar workshop, string workshop, percussion workshop or keyboard workshop), or to participate in an ensemble that augments their study on their primary instrument (mixed ensemble, choir, or jazz ensemble).

Contact hours are 2 hours practical for 12 weeks.

Prerequisites: MUT151 INSTRUMENTAL STUDIES 1
Assessment: Attendance/Participation and weekly preparation 30%
Mid Semester Assessment 30%
End-of-semester Performance 40%

MUT169
ACTING 1
3

Acting 1 is the first in a sequence of four subjects. Throughout the semester, students will increase their awareness of 'self' as performer and learn to evaluate their own work through keeping a logbook to document their progress and discoveries within the workshop. This subject will introduce students to the basic acting principles of improvisation, warm-up for performance and vocal technique (e.g. projection, articulation and breath control).

Contact hours are 2 hours practical for 12 weeks.
Prerequisites: NIL

MUT170
ACTING 2
3

Acting 2 is the second in a sequence of four subjects. This subject will continue to develop students' acting techniques including improvisation and vocal technique (e.g. projection, resonance, articulation and breath control). Students will continue to increase their awareness of 'self' as performers and continue to evaluate their own work through keeping a logbook to reflect on their progress and discoveries within the workshop. Students will develop a sense of play and imaginative response, through games, storytelling, improvisation and impulse work, which will also assist in the development of performance-making skills. Students will investigate storytelling and devising skills through the development of a narrative for a performance based on personal experience. Students will be introduced to the basic stagecraft elements that can be used in the staging of a self-devised performance.

Contact hours are 2 hours practical for 12 weeks.
Prerequisites: MUT169

MUT171
DANCE 1
3

Dance 1 is the first in the sequence of four subjects. This subject is delivered through a one-hour jazz and contemporary workshop and a one-hour dance technique class. Students will learn, develop and refine their jazz and contemporary dance skills.

This subject focusses on movement and presentation, and is designed to develop essential performance presentation skills. Rudimentary dance movements, and body and spatial awareness will be explored. Students will develop and refine their jazz and contemporary dance skills. Class work will introduce and develop basic techniques in the following skill areas: stretching, centre work, simple dance steps, and posture. Students will be assessed on an ongoing basis on their ability to perform various in-class tasks, evaluate their own and others' performances, and demonstrate development of dance skills and body awareness. The focus of these assessments will be students' technique (body awareness and control, alignment of upper and lower body, balance, strength, flexibility, musicality and sense of flow), presence and performance, professional etiquette and understanding of basic staging principles. This subject also focuses on basic drama skills, basic acting principles, improvisation, warm-up for performance and basic vocal technique (e.g. projection, articulation and breath control). At the end of the semester, students will be required to present a performance showing understanding of, and connection to the text and music in selected works. Students will increase their awareness of 'self' as performers and learn to evaluate their own work; and they will document their progress and discoveries. Students are required to investigate the background of their selected performance pieces and use this information to inform their spoken introduction and interpretation of performances.

Contact hours are 2 hours practical for 12 weeks.
Prerequisites: NIL

MUT172
DANCE 2
3

Dance 2 is the second in the sequence of four subjects. This subject is delivered through a one-hour tap dance styles workshop and a one-hour dance technique class. Students will learn, develop and refine their tap dance skills. This course will encourage students to develop their own unique dance performance style through the study of innovative choreographic processes and a wide range of contemporary dance techniques. Class work will introduce and develop basic techniques in the following skill areas: isolation, stretching, posture principles, body alignment, balance and control, coordination, turning, flexibility and stamina. Students will be graded on an ongoing basis on their ability to perform various in-class tasks, evaluate their own and others' performances, and demonstrate development of dance skills. Students will broaden their movement vocabulary and further develop their range of movement dynamics by learning to respond to a variety of musical examples featuring different metres, rhythmic formulas, tempos and moods. The dance technique exam will assess students' body awareness and control, alignment of upper and lower body, balance, strength, flexibility, musicality and sense of flow, presence and performance, professional etiquette and understanding of tap dance styles and terminology. The written assignment and presentation will require students to investigate, design and present a warm up or movement sequence in class.

Contact hours are 2 hours practical for 12 weeks.
Prerequisites: MUT171

MUT233
AUDIO B3: ELECTRONIC SOUND CREATION
3

This elective introduces you to the fundamentals of sound. You will be introduced to the principles of the physics of sound, and psychoacoustics. You will analyse sounds aurally and visually through appropriate computer software applications. This subject will also explore the structural components of sound waves, different sound visualisation and graphing systems, and basic sound manipulation techniques. In practical exercises, you will synthesise sounds from basic sine waves to more complex sounds, using appropriate sound synthesis software such as Max/MSP.

Contact hours are 2 hours practical for 12 weeks.

Prerequisites: None
Assessment: Workbook 10%
Practical assignment: Build a MIDI patch that will monitor, receive, generate, and send MIDI data 10%
Practical assignment: Build a MIDI sequencing patch that record, save and load MIDI sequences. Include an intuitive interface 20%
Practical assignment: Build a patch that can be used to create functional tuning systems 30%
Practical assignment: Build an automated music patch that generates musical data using Markov chains or other statistical composition methods 30%

MUT234
AUDIO B4: ELECTRONIC SOUND CREATION
3

This elective further develops your understanding of the fundamentals of sound. You will be introduced to advanced principles of the physics of sound and psychoacoustics. You will analyse complex sounds aurally and visually through appropriate computer software applications. This subject will further explore the structural components of sound waves, sound visualisation and graphing systems, and sound manipulation techniques, using sound synthesis software such as Max/MSP.

Contact hours are 2 hours practical for 12 weeks.
Prerequisites: MUT233 AUDIO B3: ELECTRONIC SOUND CREATION
Assessment: Multi-timbral, polyphonic synthesiser patch, equivalent of 750 words 30%
Real time patch for interactive signal processing of samples, equivalent of 750 words 30%
Responsive improvisation system patch for sound creation and manipulation, equivalent of 1000 words 40%

MUT235
AUDIO CONTENT C3: PRODUCTION PRINCIPLES 3
3

This subject is the third of four in the stream of music production elective subjects using the industry-standard audio production platform, Pro Tools. You will explore the processes used by various producers (1930s to present), and various concepts such as post production, printing effects, submixing, compressors and gates usage will be studied in detail. You will learn to position microphones appropriately for lead and backing vocals, acoustic and electric guitars, and drums in a variety of simulated environments. Music Production will further build on concepts learned in the first year. Hybrid analogue and digital engineering will be studied in greater detail including tracking and mixing techniques. You will further develop an understanding of microphone recording techniques in a studio setting for instruments including voice, guitar and drums.

Contact hours are 2 hours practical for 12 weeks.
Prerequisites: MUT136 AUDIO CONTENT C2: PRODUCTION PRINCIPLES 2
Assessment: Music Balance Assessment: practical assignment, equivalent to 1000 words 40%
Song Recording and Production Assessment, equivalent to 1500 words 60%

MUT236
AUDIO CONTENT C4: PRODUCTION PRINCIPLES 4
3

This subject is the final of four in the stream of music production elective subjects using the industry-standard audio production platform, Pro Tools. You will investigate the processes used by specific producers. Production processes appropriate to various musical styles, concepts of post-production, printing effects, sub-mixing, compressors and gates usage will be studied in detail. You will extend your knowledge through class discussions and research, and apply your theoretical knowledge through practical exercises. During this class you will continue to improve your skills of recording, including positioning microphones appropriately for a variety of instruments.

Contact hours are 2 hours practical for 12 weeks.
Prerequisites: MUT235 AUDIO CONTENT C3: PRODUCTION PRINCIPLES 3
Assessment: Class Presentation, oral (10 minutes) on production topic (recording) provided by teacher 20%
Mid-semester 'check in' on final production assignment, including brief oral presentation to class, equivalent of 500 words 20%
Production Assignment and Presentation (written and oral components, equivalent of 1500 words total) 60%

MUT251
INSTRUMENTAL STUDIES 3
3

Through performing in ensembles, students acquire theoretical knowledge and practical skills in music performance, which complement and broaden the knowledge that they receive through their specialised disciplines. Ideally, students will take the same subject/ensemble for a full academic year, ensuring consistency and stability of performance groups. Students may elect to concentrate on an instrument that is not their primary focus (guitar workshop, string workshop, percussion workshop or keyboard workshop), or to participate in an ensemble that augments their study on their primary instrument (mixed ensemble, choir, or jazz ensemble).
At the intermediate level, it is expected that students will continue to develop skills learned in the introductory subjects.

Contact hours are 2 hours practical for 12 weeks.

Prerequisites: MUT152 INSTRUMENTAL STUDIES 2
Assessment: Ongoing Assessment Tasks 40%
Mid Semester Performance Assessment 30%
Final Performance Assessment 30%

MUT252
INSTRUMENTAL STUDIES 4
3

Through performing in ensembles, students acquire theoretical knowledge and practical skills in music performance, which complement and broaden the knowledge that they receive through their specialised disciplines. Ideally, students will take the same subject/ensemble for a full academic year, ensuring consistency and stability of performance groups. Students may elect to concentrate on an instrument that is not their primary focus (guitar workshop, string workshop, percussion workshop or keyboard workshop), or to participate in an ensemble that augments their study on their primary instrument (mixed ensemble, choir, or jazz ensemble).
At the intermediate level, it is expected that students will continue to develop skills learned in the introductory subjects.

Contact hours are 2 hours practical for 12 weeks.

Prerequisites: MUT251 INSTRUMENTAL STUDIES 3
Assessment: Attendance/Participation 30%
Mid Semester Assessment 30%
End-of-semester Performance 40%

MUT253
LATIN MUSIC 1
3

Latin Music 1 examines the historical and social roots of Afro-Cuban music, explores different styles, rhythms and basic playing techniques, and contextualises technical knowledge.

Latin Music 1 comprises a lecture and a tutorial. In the lecture, students will examine historical and social roots of Afro-Cuban music, explore different styles, rhythms and basic playing techniques, and contextualise technical knowledge acquired in the tutorial. Through investigative and comparative studie, students will acquire conceptual understanding of Afro-Cuban music, conduct research and complete a written assignment on a given topic related to Afro-Cuban music. Through solo and group practice, students will learn selected Afro-Cuban pieces and perform them in class. Overall, this subject will further advance students' performance skills and appreciation of the diversity of the world music styles.

Contact hours are 2 hours practical for 12 weeks.
Prerequisites: Nil

MUT254
LATIN MUSIC 2
3

Latin Music 2 examines the historical and social roots of Brazilian music, explores different styles, rhythms and basic playing techniques, and contextualises technical knowledge. Latin Music 2 comprises a lecture and a tutorial. In the lecture, students will examine historical and social roots of Brazilian music, explore different styles, rhythms and basic playing techniques, and contextualise technical knowledge acquired in the tutorial. Through investigative and comparative studies students will acquire conceptual understanding of Brazilian music, conduct research and complete a written assignment on a given topic related to Brazilian music. Through solo and group practice students will learn selected Brazilian pieces and perform them in class. Overall, this class will further advance students' performance skills and appreciation of the diversity of the world music styles.

Contact hours are 2 hours practical for 12 weeks.
Prerequisites: MUT253

MUT257
SONGWRITING 3
3

Songwriting 3 is the third in a sequence of four Songwriting subjects. Melody, harmony, lyric, form, groove and style or character are explored with increasing sophistication in these subjects. The focus of Songwriting 3 is feel, groove, mood, style, character and archetype.

This subject includes four basic components: 1) independent composition, 2) collaborative composition, 3) presentation/publishing, and 4) performance. The term 'publishing' is used loosely in the context of this subject, focussing on contemporary technology, and meaning the issuing of one or more copies. Performance may take many forms, and includes 'reach out' events in the community in which the course operates.

Contact hours are 2 hours practical for 12 weeks.

Prerequisites: MUT124

MUT258
SONGWRITING 4
3

Songwriting 4 is the final in a sequence of four Songwriting subjects. Melody, harmony, lyric, form, groove and style or character are explored with increasing sophistication in these subjects. The focus of Songwriting 4 is advanced Logic Audio Pro techniques, particularly as applied to effective song crafting and demo-ing. Students will develop their abilities to edit and refine songs and to use Logic Pro for song creation, manipulation and arrangement.

This subject includes four basic components: 1) independent composition, 2) collaborative composition, 3) presentation/publishing, and 4) performance. The term 'publishing' is used loosely in the context of this subject, focusing on contemporary technology and meaning the issuing of one or more copies. Performance may take many forms and includes 'reach out' events in the community in which the course operates.

Contact hours are 2 hours practical for 12 weeks.

Prerequisites: MUT257
Assessment: Assessment 1: Original Song Stereo Recording 20%
Assessment 2: Original Song Logic Pro Session 30%
Assessment 3: Songwriting Collaboration composition 30%
Assessment 4: Published or Performed Original Song 20%

MUT269
ACTING 3
3

Acting 3 is the third in a sequence of four subjects. This subject will continue to develop acting techinques in improvisation, storytelling, and self-awareness in performance and vocal technique. Students will begin to develop skills in research and script analysis through the study and performance of a wide variety of naturalistic and non-naturalistic scripts. Students will rehearse and submit an example of their script analysis displaying understanding of beats, units and character objectives. Students will perform scenes and monlogues from selected scripts and develop their ability to receive and provide direction and artistic feedback.

Contact hours are 2 hours practical for 12 weeks.

Prerequisites: MUT170

MUT270
ACTING 4
3

Acting 4 is the final in a sequence of four subjects. This subject will continue to develop students' acting techniques in improvisation, storytelling, self-awareness in performance and vocal technique. Students will further develop skills in research and script analysis through the study and performance of monologues and scenes from Shakespearean plays. Students will rehearse and submit an example of their script analysis displaying understanding of Shakespearean vocabulary, iambic pentameter, beats, units and character objectives. Students will perform scenes and monologues from Shakespeare and develop their ability to receive and contribute direction and artistic feedback.

Contact hours are 2 hours practical for 12 weeks.
Prerequisites: MUT269

MUT271
DANCE 3
3

Dance 3 is the third in the sequence of four subjects. This subject is delivered through a one-hour jazz and tap dance styles workshop and a one-hour dance technique class. Dance styles workshop will further develop strong technique of jazz and tap dance as they relate to choreographed pieces from music theatre productions. Students will combine learned steps from different dance styles in more complex choreographed routines. Dance routines will be choreographed and rehearsed. In the dance technique class, students will continue to develop techniques in the following skill areas: barre work, stretching, ports de bras, centre work, adagio, turning and allegro.

Contact hours are 2 hours practical for 12 weeks.
Prerequisites: MUT172

MUT272
DANCE 4
3

Dance 4 is the final in the sequence of four subjects. This subject is delivered through a one-hour jazz, tap and contemporary dance styles workshop and a one-hour dance technique class. Dance styles workshop will further develop strong technique of jazz, tap and contemporary styles, incorporating a greater range of dynamics including jumps, turns and travel steps, extending flexibility, strength and working through the whole body with energy. Students will learn more complex dance routines from contemporary music theatre productions. More complex dance routines will be choreographed and rehearsed. In the dance technique class, students will continue to develop techniques in the following skill areas: barre work, stretching, ports de bras, centre work, adagio, turning and allegro.

Contact hours are 2 hours practical for 12 weeks.
Prerequisites: MUT271

MUT381
STUDIO TEACHING 1
3

Studio Teaching 1 aims to provide students with the basic principles and practical applications of teaching the beginning instrumental or voice student in the studio setting. Through the study of learning theories and perspectives in pedagogical approaches, students will develop a foundation for teaching beginning instrumental or vocal students. Students will analyse curriculum design and implementation to engender a musically creative and expressive teaching and learning environment. The study of interpersonal and communication skills in relation to effective teaching practices will enable students to create positive teacher-student relationships. At the completion of the unit, students will have created lesson plans, repertoire lists, strategies for overcoming common technical issues, and a pedagogical toolbox to draw upon when commencing teaching.

Contact hours are 2 hours practical for 12 weeks.

Prerequisites: None
Assessment: Presentation: 5-minute lesson – 'Introduction to rhythm reading'. 20%
Two lesson observation reports 20%
Pedagogy Portfolio: The Beginning Student 60%

MUT382
STUDIO TEACHING 2
3

Building on concepts learned in Studio Teaching 1, students will undertake lesson observations and a teaching practicum of five lessons. Ongoing reflection and refinement in their practicum teaching will enable students to develop personal philosophies as a basis for their pedagogical approach. Students will undertake a survey of teaching methods related to their instrument and examine recent pedagogical research, including strategies for motivating students. Music examination curricula, with a focus on VCE Music Performance, will provide students with knowledge and skills required to satisfy these assessment requirements. The responsibilities, processes and logistics for setting up a studio will be investigated, culminating in the creation of a music studio plan. At the completion of this unit, students will be prepared to commence teaching in their studio or in a school setting, with a collection of pedagogical tools and ideas to teach a diverse range of learners. The importance of undertaking ongoing professional learning will be reinforced through the various learning tasks in this unit.

Contact hours are 2 hours practical for 12 weeks.
Prerequisites: MUT381 STUDIO TEACHING 1
Assessment: VCE Music Assignment, recital preparation and technical SAC preparation 45%
Lesson Video:a)Lesson plan, b) Lesson video: 30 minutes, and c) lesson reflection 55%
Code

Title

Points

BSP110
BEAT CYPHER 1
3

The beat cypher elective will help students refine their compositional and production practices whilst learning about working within an artist collective project. Students are tasked with creating original electronic music projects each week using a Digital Audio Workstation (DAW), adhering to certain restrictions. The subject aims to engage students in a process or rapid iteration to enforce good habits for effective DAW work flow practices and confident creative execution. Through presentation, peer review and self reflection students will develop their composition and production techniques. The subject also has students take ownership or completing a collected work, with input from all stakeholders, using practical project management skills mirroring artist collectives and formalized industry bodies.

Contact hours are 2 hours each week for 12 weeks.

Prerequisites: None
Assessment: Assessment 1: Beat Cypher tasks 60%
Assessment 2: Create a short peer review of another students work 20%
Assessment 3: Create a peer review of another students work and self-reflection of the students own development 30%

BSP119
GAME AUDIO 1
3

In game audio 1, students will be introduced to the world of game audio and look at the varied roils and tools used by those in the game industry. This unit focuses on the collection, creation, management, and delivery of sounds for games, as well as gaining an understanding on how programmers intergrade sounds within games. Students will create preproduction documents, prepare scripts, record sound effects and dialogue, source music, and apply all sound elements within a game level, using the game audio program Wwise.

Contact hours are 2 hours each week for 12 weeks.

Prerequisites: None
Assessment: Assessment 1: Analyse Game Sound Design and presentation 15%
Assessment 2: Sound Design document and Assets List 15%
Assessment 3: Asset Library delivery 30%
Assessment 4: Mixed Sound Design for Game Level 40%

BSP120
BEAT CYPHER 2
3

Students continue to refine their composition and production skills by using a Digital Audio Workstation to complete a new series of compositions. Further practice and repetition will continue to assist students in refining an efficient work regimen and ability to respond to deadlines. In Beat Cypher 2, students are also tasked to explore new and unfamiliar creative processes through a gamified challenge system. Each student is given the responsibility to control their set of restrictions and encouraged to explore new techniques and expand their repertoire. There is also a greater level of control and responsibility in the students hands to influence the creative direction of the whole group, including the development of shared resources. Throughout this process students explore collaboration and a greater involvement in the creation of their multiple collected works mirroring artist collectives and formalised industry bodies. Students will receive constant feedback on their progress, through a variety of methods, to assist their development. Through presentation, peer review and self reflection students will continue to refine their critical analysis skills and appropriate vocabulary across topics such as the creative process, musical composition and production techniques.

Contact hours are 2 hours practical for 12 weeks.

Prerequisites: Beat Cypher 1
Assessment: Assessment 1: Beat Cypher tasks 60%
Assessment 2: Create a short peer review of another students work 10%
Assessment 3: Create a peer review of another students work and self-reflection of the students own development 30%

BSP129
GAME AUDIO 2
3

In Game Audio 2, students complete a major project involving the development and creation of sound assets, and the integration of these sound assets within a game level. To emulate the development of a game students will go through the following four stages:
1) Engage with community
2) Submit a Vertical Slice (a proof of concept to iterate from),
3) Engage with industry
4) Complete their game projects

Students will use industry standard tools such as Unity3D and Wwise, as well as a looking at a variety of tools for occlusion and spatial audio mixing. For the latter, the focus will be on concepts, as tools in this part of the industry are evolving rapidly. Students will be preparing for entrance into the industry, networking with fellow students at other institutions, and constructing their online presence, and folio, in preparation for local and online industry events.

Contact hours are 2 hours practical for 12 weeks.

Prerequisites: Game Audio 1
Assessment: Assessment 1: Analyse Limbo Audio (quiz) 10%
Assessment 2: Audio Design Document plus vertical slice 15%
Assessment 3: Industry Profile 30%
Assessment 4: 3D Audio Concepts Quiz 20%
Assessment 5: Submission of Unity 3D game and documentation 40%
---
Last updated: August 29, 2018 12:24am