About

Contact

News

Giving to the Press
New Books for General Readers
Books by Subject
Books by Series
Info and Services
Journals
Chicago Manual of Style
Scientific Style and Format
Browse by: Subject
|
Series
Books
Journals
Chicago Distribution Center
Info & Services
Paper $32.00
ISBN: 9780226309743

Published
April 2009

Cloth $81.00
ISBN: 9780226309736

Published
April 2009

E-book $10.00 to $32.00
About E-books
ISBN: 9780226309750

Published
August 2009

Also
Available From
E-book Retailers:
Apple iBooks
B&N Nook
Chegg
Google Play
Kno
Library Vendors:
UPSO (University Press Scholarship Online)
Instructors
Get Exam Copy or Adopt this Text
Librarians
Rights, Permissions & Translations
RELATED BOOKS
Children's Literature
Seth Lerer

How Poems Think
Reginald Gibbons

The Poet's Freedom
Susan Stewart

The Lost Second Book of Aristotle's "Poetics"
Walter Watson
---
True-Love
Essays on Poetry and Valuing
Allen Grossman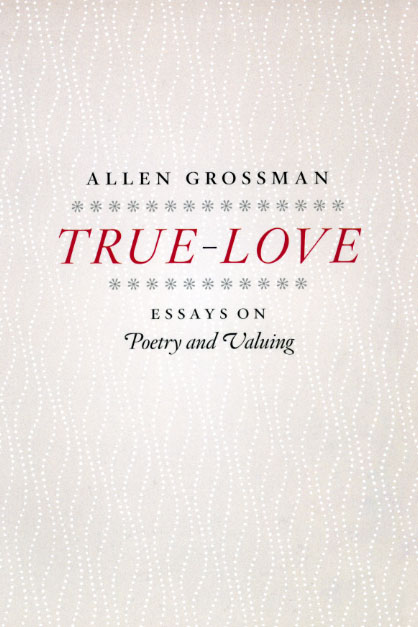 Allen Grossman
208 pages
|
11 halftones
|
6 x 9
|
© 2009
Paper $32.00
ISBN: 9780226309743

Published
April 2009

Cloth $81.00
ISBN: 9780226309736

Published
April 2009

E-book $10.00 to $32.00
About E-books
ISBN: 9780226309750

Published
August 2009

True-Love is the fulfillment of revered poet-critic Allen Grossman's long service to poetry in the interests of humanity.  Poetry's singular mission is to bind love and truth together—love that desires the beloved's continued life, knotted with the truth of life's contingency—to help make us more present to each other.
In the spirit of Blake's vow of "mental fight," Grossman contends with challenges to the validity of the poetic imagination, from Adorno's maxim "No poetry after Auschwitz," to the claims of religious authority upon truth, and the ultimate challenge posed by the fact of death itself. To these challenges he responds with eloquent and rigorous arguments, drawing on wide resources of learning and his experience as master-poet and teacher. Grossman's readings of Wordsworth, Hart Crane, Paul Celan, and others focus on poems that interrogate the real or enact the hard bargains that literary representation demands. True-Love is destined to become an essential book wherever poetry and criticism sustain one another.
Table of Contents

Contents

Review Quotes
Contents
Acknowledgments
Poetry and Enlightenment (Kant on Orientation,
Whitman on the Brooklyn Ferry, and Celan on the Meridian)
Hard Problems in Poetry, Especially Valuing
Why Is Death in Arcadia? Poetic Process,
Literary Humanism, and the Example of Pastoral
The Passion of the Laocoön: Warfare of the
Religious against the Poetic Institution
Figuring the Real: Wordsworth's "The Solitary Reaper"
On Communicative Difficulty in General and "Difficult" Poetry
in Particular: The Example of Hart Crane's "The Broken Tower"
Coda: Teaching Literature in a Discredited Civilization:
A Talk for Teachers
NotesIndex of Names
Review Quotes
Choice
"[The essays] serve as apologias for poetry—and this alone makes the book interesting reading, particularly at this point in time, when the arts are frequently called on to defend their standing, inside the academy and out."
For more information, or to order this book, please visit https://www.press.uchicago.edu
Google preview here
Literature and Literary Criticism:
General Criticism and Critical Theory
You may purchase this title at
these fine bookstores .
Outside the USA, see our
international sales information .
Chicago Blog : Literature
Events in Literature
Keep Informed
New Books Email Notification
Sign up to be notified of new books in the category Literature. Sign Up
Twitter

Facebook

Youtube

Tumblr

JOURNALs
University of Chicago Press: 1427 E. 60th Street, Chicago, IL 60637
Contact | About | Privacy
View Full
Website
University of Chicago Press: 1427 E. 60th Street Chicago, IL 60637 USA | Voice: 773.702.7700 | Fax: 773.702.9756
Privacy Policies
Site Map
Bibliovault
Chicago Manual of Style
Turabian
Scientific Style and Format
University of Chicago
Krystle embraces the power of art as a vehicle for personal and collective transformation. In a world stifled by the illusion of separation, she shares impacting visions of unity. Exploring the luminous landscapes of consciousness, her multidimensional paintings radiate transcendental light with balanced serenity. Pulsing and breathing with life, the etheric geometries which dance off her canvas disintegrate the boundaries between art and audience. Her artwork navigates the way between heart, mind, and the enchanting realms of spirit as cosmic maps into the interconnected nature of existence.
Collection of Poetry, Thoughts and Essays
The Pressure Point
(click for full poem)
"Trapped in a technoLOGICAL matrix
Where dis information breeds distraction
Humans buzz along in the busy-ness of business
making mentally driven decisions
that perpetuate the sickness of "mine" vs ours…
disEases of distortion to separate us
from the Earth & the stars…."
The Eternal Well
(click for full poem)
"Within in my being there is an eternal well…
a place where Source drinks & replenishes self.
From these depths emerges an essence
The fusion of form with a fountain of Presence
Into an Endless Stream of Perpetual Birth…"
Heart of the Mirror
(click for full poem)
"One at the heart of the mirror
where our dreams can convene
To birth the infinite into the earth
from all of the love that we've seen…"
"2012- The Doorway of Infinite Potential"
(Solpurpose Article)
"…We've arrived! Welcome to the future of our ancient past…to the PRESENT dawning of an era that has glimmered in our heArts and souls for eons…a memory of what is possible when we reMember. Humanity is FINALLY remembering. Tides of transformation are sweeping through our lives, our dreams, our communities, our world and our collective consciousness. So vastly have I contemplated this prophesied time with passionate intrigue and quest for transcendental truth…!"
Rootwire: Through the Lens of A Visionary Artist
"I believe that artists are the mapmakers of the collective mythos, illuminating the expansive pathways back to our shared Source through visions that nourish and inspire. The role of the "visionary artist" is to reveal the hidden, inner and outer universes of Creation…to make visible both multidimensional and archetypal realms of our waking/dream realities through an emotional language of color, form, pattern and symbolism. Hermann Hesse once said, "All images are open gates through which the soul may enter when it is ready. Here you and me and everything is all one."
Honoring My Maga Donna
"I just spoke with my Maga (grandma) on the phone for two hours. She sounded as youthful and blissful as ever. We spoke about synchronicities, art, gypsy wagons, urban farming, crystal children and doing what you LOVE. Ended the convo with her telling me that she hopes tonight goes better than I could have ever dreamt it so. Awwwww…She has been one of the biggest guiding inspirations in my life and my artist path. She gave me my first easel when i was a child and always encouraged my creative spirit to play. She took me on special "trips" to art museums and inspired innovative ways to recycle ANYTHING into art. She taught me that there is no limit to our creativity, that art is a WAY of life and an appreciation for inspiration that surrounds us always. She taught me that we are all creators at heart and not to take ourselves too seriously. With deepest gratitude and honor, I want to recognize my grandmother for the incredible matriarch that she is. She represents the gentle but wild archetype of the creative divine feminine. Nurturing, wise, colorful, empowered, intuitive, passionate, timeless, selfless, humble, silly and absolutely beautiful inside and out…. May we all always remember to honor our elders and take to heart the wisdom they hold. mitakuye oyasin! Aho! Hey ya!"
Greetings, world! To all of my friends, family and the beautiful beings who have supported and inspired my path and to all those who are passionately working to raise the consciousness of our pretty blue marble, I thank and honor you.
To those who have just arrived, or perhaps have discovered my work by chance or word of mouth, I extend my warmest welcome. I offer you these visions as an inspiration and meditation for your spirit. May they color your consciousness with serenity and bliss, and help you to remember that EVERYTHING is CONNECTED!
Please check my events page for my current/upcoming shows.
Thanks for visiting!
Namaste, In'Lakesh, Love, and Luminosity!